Electrician Mackay | #1 Electrical Contractors | Great Rates
Reliable Electricians. Quality Services.
Start with a free quote...
Based out of Mackay, Your Electrician Mackay offers full-service electrical services to residential clients. We can assist with all kinds of electrical projects, right from design and installation to maintenance. Our extensive experience in the industry makes us capable of providing each of our clients with effective solutions tailored to their needs. Our focus is on delivering the best services at a realistic price point irrespective of the size of the project. Our team brings a diverse collection of skill sets that allow us to handle all kinds of projects, whether big or small.
Whether you own an older, historic home that needs upgrading or your contemporary home needs electrical changes to meet your evolving needs, we can help you with your electrical needs, so you have the power you need today and in the future!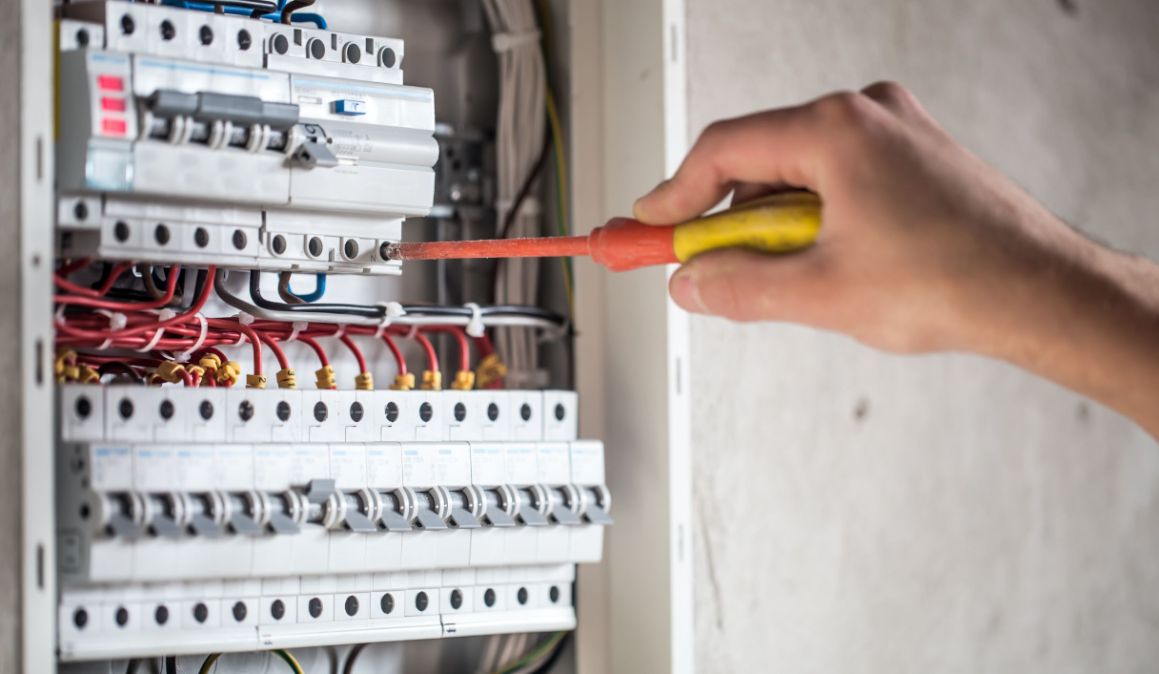 Why Choose our Mackay Electricians?
When it comes to choosing an electrician, we know there are a lot of companies to pick from. It is a big decision, and it will determine the success of your electrical project and affect you for years to come. To help you decide whether we are the right electrical service provider in Mackay, here are the top reasons why our customers choose us –
Our team of professional, licensed, and experienced electricians guarantees quality Mackay electrical services at every job. We provide Test and Tag Mackay services across all suburbs and ensure your wiring is up to local codes and standards. 
Residential Electrical Wiring
Electrical wiring in your home is the most critical part of your home. None of your lights, outlets, or appliances can function without safely installed proper electrical wiring. It is also one of the complicated systems around the house that is not just difficult but extremely dangerous when attempted by those not qualified. It's important to always call a licensed electrician whenever you face electrical troubles. If you have no professional training, it is best to hire a professional any time you face trouble with your wiring. 
Whether it is fixing an electrical fault, circuit installation, new power points socket, nuisance tripping, or rewiring the property, our electricians can help. These are quite common and should not be left unrepaired. They have a potential risk of electric shock or fire and should be fixed as safely as possible. From small projects to complete rewiring jobs, every job is completed by fully qualified electricians to give you peace of mind. 
Our team of professional, licensed, and experienced electricians guarantees quality Mackay's electrical services at every job. We provide Test and Tag Mackay services across all suburbs and ensure your wiring is up to local codes and standards. It is important to ensure your home is properly wired as not to compromise on your safety. We carry out all necessary inspections, tests, and repairs of the electrical system, so they are safe to use. So get in touch without electrical contractors Mackay Qld. 
Our Electrical Services in Mackay
All of your electrical needs are covered by our team of experts who provide a wide range of electrical services.
Switchboard Upgrades
If you live in one of those older houses or have ceramic fuses, it's important to stay in line with the latest safety recommendations andyou are required by laws andto upgrade your switchboard and add RCD protection to increase your family's house's efficiency and safety. Out-of-date switchboards can be a hazard. If you are experiencing any of the following issues, we can help:chances are you will need help right away –
Lights flickering for no reason

Use of multiple appliances together blows the fuse

Switchboard cabling gets too hot
All of the above signs are calls for upgrading your electrical switchboard. Our team has years of experience replacing all-ceramic fuses with modern, safe circuit breakers and RCDs. We will rewire all the cables behind the panel before testing the entire installation and ensure they are safe and working well. All of our switchboard upgrades meet Australian standards AS3000 and create a safer environment for you and your family.
A switchboard upgrade is a small investment for the welfare of your family. Give the best
Electrician Mackay
has a call to assess the current state of your switchboard.  Do not wait for an electrical fire to occur to make the right decision! 
Electrical Additions
Most older homes do not have enough power points. Modern lifestyle choices such as appliance-rich kitchens, induction cook tops, home offices, and even home theatres increase our need for powerpoints exponentially. In addition, many homes have just one socket per powerpoint along with outdated wirings limiting the number of appliances you can use at a time. In the same way, lighting circuits can become outdated and can no longer handle the requirements and flexibility you need around the house. We provide prompt, affordable, and customer-focused electrical addition services to a single room or the whole house. Our electricians in Mackay will work with you to install enough power points to ensure it meets the current and future needs of you and your family. We can replace your old light fittings with modern lighting trends such as mood lights, trackspotlighting, downlights, and wallambient lights that are energy-efficient and environmentally friendly. All-new power points and light fittings are tested before any work is finalized to ensure your safety. Your Electrician Mackay uses only highly skilled electricians to provide speedy, efficient, and worry-free services. We understand you are busy, and it is the reason we work with you to understand your needs and provide you with the best solution with the least disruption to you and your family.
LED Upgrades
The light-emitting diode or LED has completely revolutionized the lighting market. In Australia, a large number of homeowners are upgrading to LED lighting solutions for the many benefits it has to offer. From reducing carbon footprint and lowering energy bills to enjoy subsidies from the government, there are many reasons to upgrade to LED lights. We provide a complete lighting upgrade for your home and replace all your existing halogen, incandescent, and compact fluorescent light bulbs. All installations are completed by a registered Mackay Electrician with the right skills, experience, and good track record. We ensure a fast turnaround time and complete every LED upgrade without disruption to your everyday life. We pride ourselves in using only high-quality and reliable products to deliver long life and are backed by warranties. Whether you are worried about your high energy bills or would like to do your bit for the environment, we are here to offer professional LED upgrades for your home.
Data and Phone installation
Data and communications are more than just a necessity in today's busy world. When your phone stops ringing, or the internet connection is stopped, it can send you on a spin. Our experienced electricians can professionally install your data and phone cabling and outlets at a time most convenient to you. We provide a wide range of options to best connect your home and maximize the speed of your NBN connection. It is critical to future proof your data requirements with the latest cabling and network systems to avoid downtime. Keeping an organized cable system during installation will help reduce faults, enable repairs, and fault finding can be performed easily. Our Mackay Electricians can take care of your home data cabling and phone points. If you have bought a new computer, installed a new phone, or thinking of moving things around the house, our electricians will ensure everything is plugged in and ready to go. Every installation is carried out by a qualified and licensed electriciancabler with years of experience. We offer support from the initial selection, design, and installation through to upgrades, maintenance, and extensions. We use the latest technology to carry out the testing and fault finding. So, we really do offer a complete data and phone cabling package. At Your Electrician Mackay, we pride ourselves in delivering quality, comprehensive and dependable data, and phone cabling services for our customers. Whether you are undergoing a home renovation, bought a new house, or opting for a simple upgrade, we can provide expert advice on the best design and installation to meet your particular needs.
Garden Lighting
Installing garden landscape lighting is an important aspect of any outdoor setting and adds great value to your property. The time you spend outdoors with your families and friends is good for you as it reduces stress and helps build strong connections with loved ones. It is why having great outdoor lighting is critical so you can spend more time outside even once the sun goes down. Garden lighting needs different wiring, power setups, and placements. Even the simplest project can get complicated if you try to handle it yourself. Luckily, we can make the process simple and smooth. Whether it is about installing ambient lights above the deck or installing extensive landscape lighting, local Electrician Mackay can give a fantastic look to your gardens and lawns. We can also add a few extra powerpoints on the outside so you can use appliances outside with great ease. No matter your budget, our electricians provide professional design and installation services to meet all your garden lighting Mackay requirements. Our Electricians Mackay can supply and install garden lights that look spectacular and can withstand all weather conditions. We can also take care of garden lighting repairs and maintenance needs with efficiency and accuracy.
Pendant Lighting
One of the best ways to improve the look and feel of your house is with pendant lights. They look great above the stairs, living rooms, dining areas, and bedrooms. Since most of these pendant light fixtures are supposed to be installed on the ceiling, they need a certain level of skills and experience. Instead of struggling with your pendant light installation, give us a call to install your lights for you safely, quickly and correctly the very first time. You will have peace of mind knowing that a qualified and experienced electrician has assembled your pendant light fixtures, works properly, and stays on the ceiling for many years to come. Our Mackay Electrician will help prevent any damage to your ceilings or walls by making sure they are connected correctly. If you have recently bought a new pendant light from IKEA or a local lighting store to replace the old one in your home, we can help. We will inspect the area intended for the install, remove the old pendant light and install the new one correctly. We guarantee you will be thrilled with the results!
Outdoor Lighting
Well-established outdoor lighting is not just aesthetically pleasing but also serves other purposes. They can improve the safety of movement and are a great deterrent to intruders. With many different kinds of outdoor lighting available, you can transform your home so you can be the envy of your neighbors and make your house warm and inviting. Outdoor lighting is exposed to the outside elements, and the system wears out much faster than indoor lights. Unfortunately, outdoor lights can quickly become inefficient and fall out of code, leading to wastage of money and even be dangerous. The good news is that modern outdoor lighting has become an integral part of home décor. Our electricians can assess your lighting needs and offer advice on the best type of lighting for your outdoor area. Your Electrician Mackay is not just the fastest service you can call for help with outdoor lighting, but are also the best. We have the expertise, certification, and experience to inspect, replace or repair all kinds of outdoor lighting. We help light up your home outdoors with the appropriate lighting, including floodlights, deck lights, security lights, accent lights, ground lights, roof lights, backlights, and much more.
Solar Installation
Mackay is blessed with great sunlight throughout the year. You can take advantage of it by installing solar panels at your home to harness the solar power. Solar energy systems can help harness the sun's rays and generate electricity for your home. It also comes with added incentives for any extra power you produce. It makes not only solar energy environmentally friendly but also yields financial returns. Our solar experts can help set up solar panels on your property to partially or completely meet your electricity needs. We offer all types of solar services, such as energy audits, designing, installation, and maintenance. We can create a solar energy system based on your energy usage so you can enjoy maximum returns. Our goal is to ensure your installations are durable, efficient, and will last for years. We can also customize a regular maintenance plan to help you get the most of it. We can also find any faults and then clean and repair the solar panels so that they run optimally. So, if you decide to go green, you can call us for your solar power needs. Our team of electricians will run your requests effectively and ensure a hassle-free and seamless experience.
After a Mackay Electrician?
Are you in need of local electrician services? Contact Your Electrician Mackay as we offer free electrical quotes. Whether you are looking for emergency light testing, switchboard upgrades, need generators, installation of outdoor lighting, or data and phone installation, we will be able to supply 24/7 Electrical Services
Our Electrical Services in Mackay
Are you in need of local electrician services? Contact Your Electrician Mackay as we offer all the suburbs in Mackay. Whether you are looking for switchboard upgrades, installation of outdoor lighting, or data and phone installation, we will be able to supply 24/7 Electrical Services in right across Mackay. Whether you need electricians in Bakers Creek or Erakala, our team can help.