Electrical contractors play a critical role in residential, commercial, and industrial construction. Electrical malpractice, which happens when unqualified electricians do wiring, upgrades, or repairs, can cause serious accidents, fatalities, or fires. It's most common when unqualified electricians do wiring, upgrades, or repairs.
While equipment failures are unavoidable, how the system reacts is critical for safety. Most of the time, electrical safety problems or risks are caused by equipment or wiring malfunctions or carelessness.
When properly wired and protected, the system will effectively isolate the problem and eliminate the majority of potential risks. This method works well as long as the electrician follows industry best practices and obeys all applicable codes and rules.
Consider the following when seeking electrical contractors:
Apart from qualifications, you'll want to hire an electrical contractor who is licensed and insured, has a good reputation, has recommendations, and is reliable and capable of delivering a good result.
Determine the legitimacy and eligibility
Determine whether the contractor complies with all applicable legal, professional, and safety requirements. Employing registered, insured, and qualified electrical contractors in Mackay protects you if something goes wrong. It shows that the contractor is trustworthy and that you can trust him or her to do a good job on your project.
Among the primary concerns that should be addressed are the following:
License and Insurance
Ascertain that any electrical contractors you hire are licensed and insured. Additionally, they should have worker's compensation coverage in case any of their electricians are injured.
Ensure the quality of the work
Professional electricians should be confident in their work and will not hesitate to provide a written guarantee. The company and technicians should have relevant experience in completing comparable projects. The level of experience required varies according to the scope and complexity of the work. However, it is prudent to hire electrical contractors with a minimum of three years of experience; more complex jobs may require additional requirements.
Availability
Ascertain their availability. This is important both before and during the project, because you may need them to be available for talks, changes, or updates.
Documentation
Make sure the contractor gives you a written record of the work done, as well as diagrams that any other professional can follow and understand.
Will the contractor clean up after the project is completed? Professional electrical contractors will always clean up the work area and remove any debris, scrap parts, or dirt, leaving your property clean and clear of obstructions. However, confirmation is critical before entering into a contract.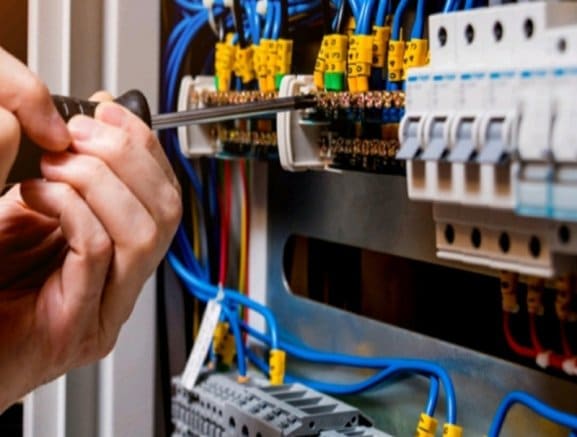 Reasonable pricing
There should be room for negotiation without jeopardizing the quality of the work. Be cautious of low-ball quotations, as they may imply low-quality products and workmanship.
Evaluate quotes from the electrical contractors
You may need to solicit quotes from a variety of electrical contractors who meet your specifications. Evaluate them all and narrow your search to about three that most closely match your requirements. Ascertain that these contractors adhere to all applicable electrical and legal standards.
From here, you can conduct interviews with the shortlisted companies or candidates to ascertain who best meets your requirements in terms of quality, reliability, flexibility, and cost, among other factors. Take care not to choose the lowest quote because it may not be the best; you will need to compare several factors before settling on an electrical contractor. It is preferable to pay slightly more than the going rate than to compromise on the quality of work.
Ask questions
Due to the inherent dangers, do not be afraid to ask the prospective electrical contractor any questions you believe are pertinent and necessary for the job's successful completion. This will help you figure out whether the person or company can provide a safe and fully compliant electrical installation.
It is prudent to take the time necessary to analyze the available options and then make an informed decision free of pressure. If in doubt, consult experts or other professionals in the field.
Conclusion
When searching for electrical contractors to perform new wiring, repairs, or upgrades, there are several factors to consider. These rules apply to all installations, no matter how commercial, industrial, or residential they are.
These professionals will ensure that the wiring and equipment adhere to all applicable electrical codes and regulations while also providing cost-effective and dependable services. If electrical contractors can't give you clear answers, this could be a sign that they can't do the job right, and you might want to look for other contractors.